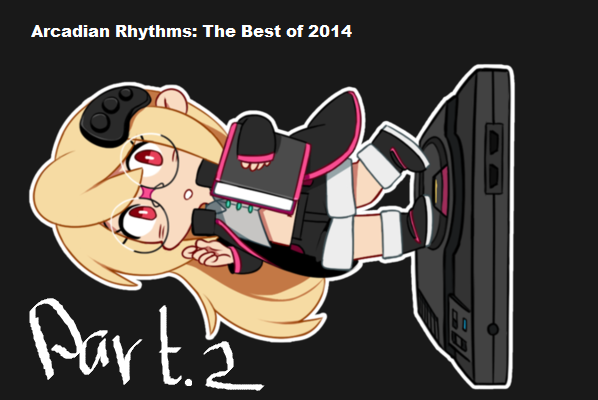 2014, to be brutally honest, wasn't the best of years. Instead of brooding over it we decided to do something to brighten the mood. The solution? A quiz.
Participating were an assortment of regular (and irregular, and non-) contributors to Arcadian Rhythms, along with occasional guest star Mike of You Total Cult.
This is part 2 of the podcast, as you may have guessed by the title so if you want to hear the first part, go here.
We've included the questions for the second half of the quiz below for anyone at home who fancies participating. Sadly you won't be doing so alongside us, but you can be comforted by the fact that participating won't mean 6-7 hours of recording (and, admittedly, drinking).
Many thanks to those who wrote in with their contributions, both here on the site and on our Facebook page.
Questions
July: Which Telltale series came to its seasonal conclusion this month?

Bonus Question: Name the remastered Ellen Page Simulator which was re-released (remastered) this year for PS4.

August: Name the disappointing third instalment in a franchise that was released this month.
September: Pier Solar HD was released this month, but which console was its original Kickstarter for?
October: Please explain why you haven't played Alien Isolation.

Bonus Question: Name one other horror game that came out in October.

November: They are the same but they are different – which is the odd one out and why?

Toybox Turbos
Escape Dead Island
Grand Theft Auto V
Dragon Age: Inquisition

December: Lara Croft and the Temple of Osiris came out this month. Why were parts of the gaming community electing to boycott it?

Bonus Question: What was AJ's favourite game that he played this month?

Extra Question #1: Which of the following games wasn't released this year?

Five Nights at Freddies 2
Run Sackboy, Run
Tears to Tiara 2: Heir of the Overlord
Warface
Poptropica: Forgotten Islands
Murakami Baby
Ar No Surge: Ode to an Unborn Star
Xblaze Code: Embryo
Conception II: Children of the Seven Stars
The Witch and the Hundred Knight
Akiba's Trip: Undead and Undressed

Extra Question #2:Â How many Final Fantasy games were released (including platform reissues) this year?

Seven
Eight
Ten
Eleven
Timeline
00:57 – Question 7!
01:43 – "I'm honestly not wrong"
03:29 – Dylan talks himself out of a full point
05:50 – Mike divulges that no matter how much you piss him off, he will get what he paid for (which is a broken game)
07:42 – Technical problems with the next generation
11:02 – Bonus Question
12:00 – "She's not a goat, is she?"
13:30 – The gang debate how to make a game based on the film Secretary
17:13 – "I actually remember her from that"
18:54 – "So it's like a Dora the Explorer game?"
23:00 – "Book of Eli can't be wrong"
25:10 – Question 8 (to which there are three right answers!)
26:45 – Die Hard conversation
29:01 – "Is this another masturbation reference?"
30:15 – "Oh, fuck you"
34:30 – "This terrible oversight-"
35:42 – "Was that 'lube' you said?"
35:57 – Question 9!
38:00 – Mike changes his answer
38:24 – "Why is he standing up?"
39:25 – Shaun endeavours to make the podcast longer
40:50 – "Is that a console you can't play after midnight?"
42:00 – "I bought this because Mike said it would be funny"
42:52 – "Does AJ stand for 'Anime Jack-off'?"
43:15 – Question 10!
52:20 – "Why haven't you played Locker Lunacy?"
54:25 – Shaun given 'Potter award' for failing to pay attention
56:04 – Rants about Michael Myers' representation
46:20 – Anecdotes about EGX Rezzed and hiding in cupboards
50:34 – Bonus Question
58:40 – Question 11
1:01:51 – "Better as browser games"
1:07:19 – Potter gets very shirty
1:08:48 – The argument about spiritual sequels gets a little out of hand so we break
1:09:00 – Question 12
1:11:10 – "You're thinking of the wrong Tomb Raider game"
1:12:22 – "Lara doesn't have AIDS"
1:12:55 – "If you want epics in video games…"
1:15:28 – Talk of cutting the podcast go on
1:16:00 – AJ ad-libs. People are disappointed and booming sounds are aplenty
1:18:00 – Things are getting messy as the crew become noticeably more drunk
1:19:00 – "You demanded a bonus question!"
1:20:10 – Question 13!
1:20:50 – Shaun says rude words
1:22:50 – "Just give one answer you cheating bastard"
1:24:05 – "Do you guys have consistent listeners for injokes?" – "no"
1:25:02 – Question 14!
1:25:50 – "The moral, ethical, answer is 'Fuck you Square Enix'"
1:26:58 – "To be fair, a lot of those were ports"
1:29:09 – "Hands up those who laughed when Aeris died"
1:29:36 – Question 15
(Oh god, this goes on for 27 minutes more)
1:30:30 – Potter is physically pained by Spann's response to best games of 2014.
1:31:40 – Potter's Choice of 2014
1:32:16 – Shaun's Choice of 2014
1:33:03 – Mike issues an apology
1:33:56 – Mike's Choice
1:36:22 – Claire's Choice
1:38:28 – Dylan's Choice
1:39:11 – Bex's Choice
1:39:39 – "There was a lot of Ghibli put into that game"
1:40:09 – Naomi's Choice
1:41:00 – The gang talk about Naomi's choice in between crisp eating and table banging
1:43:30 – Shadows of Mordor marked out as the best Assassin's Creed game
1:47:29 – 'Ice cream games'
1:47:44 – Shaun, Claire and AJ reconvene the next day to get the scores and a final recap