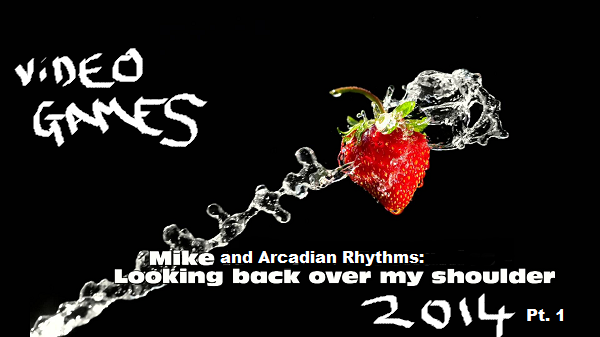 2014, to be brutally honest, wasn't the best of years. Instead of brooding over it we decided to do something to brighten the mood. The solution? A quiz.
Participating were an assortment of regular (and irregular, and non-) contributors to Arcadian Rhythms, along with occasional guest star Mike of You Total Cult.
We've included the questions for the first half of the quiz below in case anyone at home fancies participating. Sadly you won't be doing so alongside us, but you can be comforted by the fact that participating won't mean 6-7 hours of recording (and, admittedly, drinking).
Many thanks to those who wrote in with their contributions, both here on the site and on our Facebook page.
(The wait for part two will not be long – it'll be published tomorrow!)
Questions
January: Which game, that made it big on Kickstarter, was released in this month?

Bonus Question: Which game, starring a cephalopod, and featuring QWOP-style controls, was also released this month?

February: Which game was released this month and was quickly copied by 2048?

Bonus Question: Name the fourth instalment of a much-loved (by Arcadian Rhythms) series that involves shooting ants from space.

March: What do Dark Souls II, Titanfall and Towerfall: Ascension have in common?
April: Which simulator was released this month alongside a parody of the infamous Dead Island trailer?
May: Which game was released this month that involved killing Nazis in a dystopian present, starring a humourously named protagonist?

Bonus Question: Also released in this month was a game with which Swery65 was involved. What was it called?

June: Which Ubisoft game, built using the Rayman engine and set during World War I, was released this month? Hint: it almost made Potter cry.

Bonus Question: Airtight games closed their doors this month after releasing Murdered: Soul Suspect. Name one other game they developed.
Timeline
01:14 – "There is an 'I'…"
01:46 – "Ah, I see the problem now"
03:21 – Mike shows his credentials
04:08 – "You obviously haven't listened to our podcast before"
04:59 – Prizes are discussed
05:34 – Question 1
06:20 – An argument breaks out about hints – AJ is physically chastised
09:16 – Potter breaks out and is met by a cacophany of laughter (WARNING: you may want to turn down the volume for a few seconds – sorry!)
13:11 – Conversation diverges into potato salad
15:00 – Somehow salad turns into fascism
15:45 – Bonus Question for Question 1!
17:23 – Uproar as Dylan gets a question right
19:03 – We discover that You Total Cult does not get commentary love
19:15 – Question 2!
20:20 – "Anything that isn't pure 2048 is bullshit"
21:30 – We admit we hate games (games conversation goes down the toilet)
24:23 – AJ has a little Sony dig
25:23 – Bonus Question for Question 2
27:20 – Saints Row IV
27:48 – "That's bullshit and you know it"
29:00 – "We'll probably put a link in the notes" (we haven't because it would be a spoiler)
29:58 – We discover AJ can't spell 'Borne'
33:00 – We descend into Fantastic Four references and Transformers
33:37 – Question 3 (yes, I know)
35:30 – "Bullet physics"
37:10 – "It's my voice, I can't help it."
38:01 – "Hold on, I have a problem"
39:25 – Question 4
40:10 – Tapping noises ahoy!
40:34 – Conversation diverges into the Dead Island 2 trailer conversation and 'stopping mid-wank'
42:14 – Dylan has a revelation
43:00 – Shaun answers: Operation Flashpoint
44:29 – AJ does some cross-Atlantic translation
46:00 – Fuck me, we made it to Question 5!
49:07 – Bonus Question
50:50 – "Coffee Drinker simulator"
53:56 – "So just to be clear – it's not Catherine?"
55:20 – Question 6!
56:04 – "Can you tell me the answer Naomi?"
56:35 – After being told not to give hints, Naomi tries to break the rules by doing just that, kicking the table in the process
57:49 – Discussion about an Animal Crossing game set during WWI
59:20 – AJ tries to say "This War of Mine" as many times as possible
01:01:52 – We start talking about Vagrant Story
01:04:00 – There was a bonus question, but we got side-tracked
01:05:30 – "Are you fighting these as a dog?"
01:06:20 – Fuck, we almost got to the bonus question again.
01:07:17 – Shaun corrects the usage of 'factoid' (and it later turns out both definitions are actually fine, the smart-arse)
01:08:13 – And finally, the bonus question!
01:09:34 – Note: the offer of twenty points does not extend to anyone doing the quiz at home as we cannot check whether you are cheating
01:11:10 – Claire takes a punt on the answer then brings up past transgressions
01:12:23 – Conversation about Tupperware Party and James Brown Soularium (Mike's favourite imaginary game)
01:14:23 – "Accurate but not relevant to this question"
01:16:16 – All the times Hitler was funny
01:16:44 – "We are absolutely cutting all that"