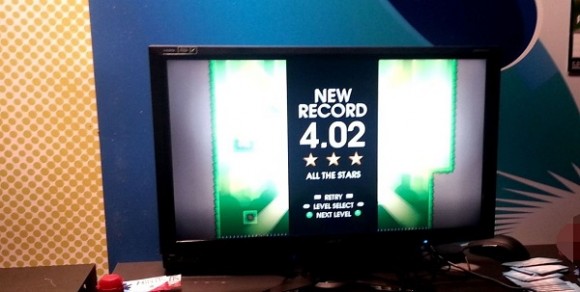 The second part of our EGX Rezzed podcast has arrived… after E3. Evidently we are not as efficient as we would like.
This is the sad result of a spectacular miscommunication in which three of us failed to realise that no one was working on the timeline or the games mentioned, even though the audio was edited and ready to rock.
Still, here it is, finally. Apologies for the clicking sounds, beer can opening, yawning and recorder bashing. To be fair, if you've listened to our podcast before you're probably used to all this.
Steel yourself, body and soul, for highs (soundtracks, of all things), lows (Enola) and plenty of drunkenness.
Timeline:
00:20 – Our first fuck-up took only twenty seconds
05:08 – "Up there with Centipede"
05:50 – "Nazi robots?"
06:25 – "Basically playing the first level, over and over again"
07:53 – "Never let them do it"
09:48 – Tracing out a pattern with our fingers
11:02 – More love for the Vita (we're starting to think AJ doesn't like it)
11:57 – "I really like the peeing mechanic"
13:00 – AJ tried to coax OlliOlli talk out of Potter
15:00 – The gang praise OlliOlli… sort of
17:30 – A call out to a Mac friend
18:40 – We talk about a game that is basically Flower but better
19:58 – Some confusion over flying turtles
20:30 – "You are giving me that funny face"
23:01 – "Miner Dig Deep 2…" "Robots"
25:09 – "I am sure it is awesome, maybe"
25:50 – The duo take pause from their game talk to discuss indie development
28:26 – AJ takes the piss out of Fennesz
31:05 – AJ says 'simple' for the umpteenth time
33:37 – Potter talks about the soundtrack for Concursion (please note that we had not interviewed the Concursion guys at the time of recording, so lacked some info on it)
36:00 – "It gets me everytime"
42:24 РSmashing Pi̱atas
43:40 – "Like Clay Fighter?"
46:00 – Point and Clink adventure
48:10 – Like Wetrix but with no objectives
49:14 – We talk about our favourite games
51:34 – "Go fuck yourself"
52:50 – Award times
56:30 – AJ takes it too far (and in light of E3 it might be unfounded)
58:00 – We start running out of awards
Games mentioned:
Three Body Problem (mentioned briefly in the awesome Biome preview/interview)
10 Second Ninja
Hotline Miami 2
Postal
OlliOlli
Hohokum (the rainbow game)
Steamworld Dig (which is also out on PC)
Concursion
Alex Kidd in Shinobi World
Mercenary Kings
Toby's Vertical Adventure
Forma.8
Dead Pixels 2: Straight to Video
Super Pinata Pro
Gang Beasts
Velocity 2X
Murdered: Soul Suspect
Biome
Alien Isolation
Infamous: Second Son
One Finger Death Punch
Enola