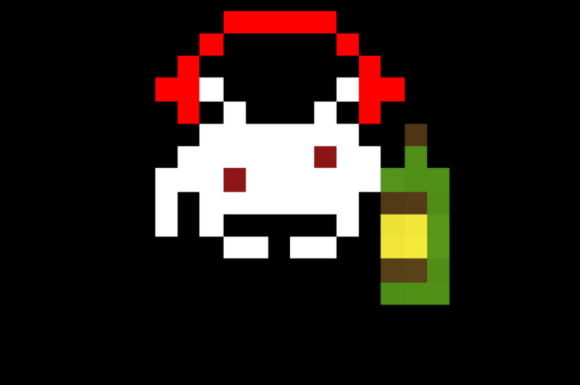 Our first podcast of 2014 emerges blinking from a nice 'apartment', hosted by genteel Canadian AJ and his friendly English hominid Potter.
Recorded over the course of two days, this podcast will tell you why you don't need an Ouya but may end up with one anyway, assesses whether or not the first record-breaking Kickstarter game project has been worth the wait, attempts to get to the heart of what makes Dark Souls so special, why recording 'casts at 1am may be a problem and how someone shot Hitler last night.
There is a possibility that last one is a euphemism.
Timeline
00:00 – Light entertainment, technical problems.
01:06 – "As in, what you do?"
01:53 – a plug for a novel leads into speculation on Brightonian habits, which leads into discussion of rewriting a character's gender.
05:48 – "Welcome to our podcast about literature!"
06:24 – AJ covers the background of Double Fine's first Kickstarter.
07:46 – One special listener is promised a free book about sweaty men fondling one another.
09:20 – Three minutes later, Potter is able to talk about Broken Age.
11:36 – "I'm not sure what kind of face that is."
11:50 – Probably the funniest discussion around the semantics of "point and click adventure" I have ever heard.
17:00 – Disgusting, slanderous accusations with no basis in reality are levelled against Shaun.
17:40 – Discussion moves on to Dark Souls.
18:57 – AJ attempts to nail down the heart of the game.
22:00 – "It's that bravery, to let people understand that they aren't going to see everything."
22:45 – "There's still stuff that people can't explain."
24:13 – "I have talked way too much about Dark Souls" is probably going to be a pull quote on ads for its sequel.
24:40 – Shoot Many Robots is discussed.
26:50 – Not naming and shaming shit performance in multiplayer co-op. Potter.
27:40 – Discussion of the late game and its in-app purchasing features.
29:00 – Games of a similar ilk to Shoot Many Robots are discussed in relation to its standout characteristics.
30:49 – Repetition. Repetition. Repetition.
32:15 – Break!
32:33 – The follies of podcast recording at 1am.
34:10 – "I want to say atavistic […] almost primal satisfaction to a really good headshot."
34:47 – "I shot Hitler last night. That was quite satisfying."
35:00 – Conversation moves on to the Ouya, the crowdfunded Android console.
37:51 – "Where it falls apart is the controller."
41:00 – "Something you take for granted on the 360 or the PS3 is when you power on your controller the console will start responding to inputs."
43:16 – "There's no reason to play WizOrb on an Ouya."
44:07 – "I have almost no use for this whatsoever… and yet I'm still tempted."
45:42 – "To add to your collection of redundant consoles…"
46:30 – Promises are made about another cast with a larger cast (see what we did there?) and AR announces its presence at Rezzed 2014 in Brum.
50:35 – "Bye!"
Games Mentioned
My Horse (for Android)
My Horse (for iOS)
Broken Age
Little Big Planet
Dark Souls
Dragon's Dogma
Shoot Many Robots
Contra
Dungeon Defenders
Borderlands
Diablo
Sniper Elite V2
TowerFall
Killing Floor: Calamity
Counterstrike
WizOrb
Arkanoid
Breakout
Nidhogg
Samurai Gun