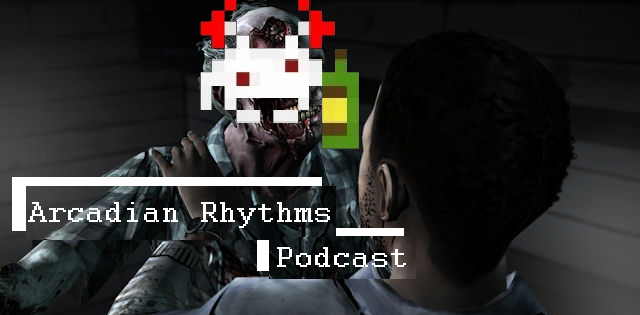 Shuffling and moaning like a very dead Walker, the Arcadian Rhythms crew bumble through their experiences with Tell Tale Games' award-winning adventure game The Walking Dead. Potter, Shaun and AJ talk at length about a game (in five parts) they consider to be one of their highlights of 2012.
Please note, listeners, that there are substantial spoilers throughout. If you have not yet played The Walking Dead  and do not want your experience sullied, avoid this discussion. Until you've played through it. Then you can come back.
Timeline
03:00 – An argument about what constitutes gameplay
04:20 – Shaun remembers to issue a spoiler warning
06:20 – 'Point and Click' or 'Quick Time Event'?
10:00 – We eventually begin talking about the game itself and AJ immediately starts moaning about puzzles
17:10 – "We are not going to talk about Alpha Protocol." (We then talk about Alpha Protocol)
17:55 – AJ says 'actually' for the umpteenth time
22:50 – Discussion is had about Walking Dead sex tapes and the validity of a timer designed to catch trouser-zipping
25:00 – Shaun doesn't notice the correlation between death and zombie outbreaks
27:00 – Radha Mitchell's career from Neighbours onwards
31:07 – After some more Ron Swansoning we get back to Walking Dead talk
35:30 – Potter denies infanticide through negligence (but is a savescummer)
38:30 – Spoilers for the comic book
41:20 – AJ says some things that are going to reward him with a punch in the arm
46:00 – Carly and Doug; Doug or Carly?
52:00 – Lying and backstabbing
55:00 – The gang fail to name the teenager from the game (his name is Ben)
57:00 – Shaun argues that there are no 'good' or 'bad' characters in the game
1:00:40 – "Omid and the other non-character"
1:02:30 – The AR guys pull out a routine akin to the old guys from the Muppet show
1:11:10 – Potter has no favourites
1:17:20 – Shuffling and other background noise does not detract from Shaun's final statement
1:22:00 – "What's Acetol?"
Games mentioned
Horace goes Skiing
The Walking Dead Ep. 1-5
Far Cry 3
Dark Souls
Alpha Protocol
Witcher 2
Brink
Credits: Thanks once again to Ben Alleguen (Soundcloud) for the use of one of his tunes in our intro and transition segments.