More news about the forthcoming Earth Defence Force: Insect Armageddon has been clambering from the Vicious Cycle Software hive this week. First up we got some screenies of a bunch of monsters… yeah, who cares, right? It's just some monsters. Well, this is EDF, so that means bugs. BIG BUGS. Like this bad boy: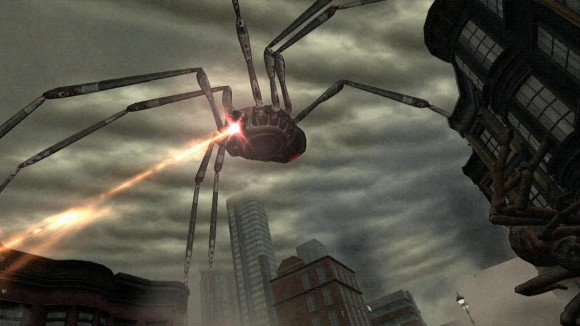 For many years I have longed for a game to feature a weird-looking insect that's not actually a spider even though it is an arachnid. I have longed for this because I wished to shoot such an insect. But it would have to be really large so that I didn't feel like I was being a bully.
You can check out the full set of pictures over on the PlayStation blog (first time I've ever linked there, I gotta say). The harvestman above is probably the best new critter but there are some cool old favourites too. They're all a lot more exciting than the concept art of enemies from F.3.A.R. 333 which was also unveiled this week. Guys! Guys with guns who you shoot with your gun! I don't know how they think this stuff up.
Also, G4TV has a video preview of Insect Armageddon which I'll embed below. I'm going to have to wait for my lunch break to even watch this, so I guess this is kind of a reverse scoop. News! We are hot and fast with it, for you.
(My favourite thing about this video, having not seen it, is that first time around I accidentally pasted in the embed code for some Ubisoft fitness 'game'. Now that would be a bold new direction for the EDF series.)